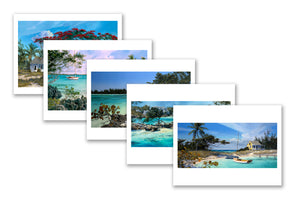 Quality note cards and envelopes with a beautiful variety of 5 different Phil Capen scenes, one on each card. Blank inside.  Each 4 5/8" x 6 1/4"
Scenes include:  Tropical Hideaway, Double Breasted Cays, Out Island Paradise, Safe at Anchor, and Poinciana Beach. 
FREE Shipping in the U.S. on all note cards!